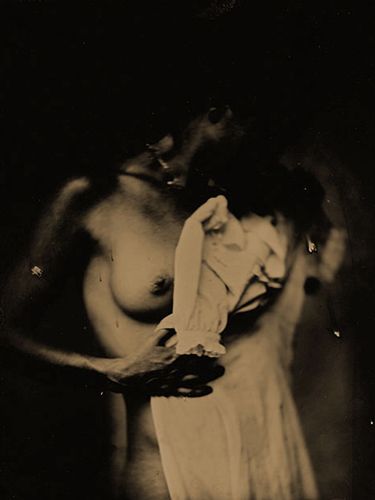 bio
Davidjohn Lotto is a self taught photographer who has been making photographs for the past twenty years. He assisted Oliver Gagliani in his Nevada workshops for three years teaching silver based technique, but he ultimately found his own creative voice in the platinum/palladium process. He uses vintage, brass, Petzval lenses as well as older soft -focus lenses to capture his images. His meticulous printing on delicate handmade Japanese Gampi paper creates images that evoke the soulful sensitivity of early Pictorialism.
More recent work is being done using digital negatives made from scanned wet- plate collodion positives. " It is the best of both worlds ; a one-of-a-kind wet plate image and a beautiful platinum print "
Davidjohn has a degree in Psychology and is a life-long student of Buddhism. "I have always been interested in emotional states and photography merges perfectly with these two interests, allowing me to explore my emotions visually as well as psychologically and spiritually." For him photography is "a way to portray the inevitable but difficult process of understanding and coming to terms with self."
Davidjohn's work has been published in B&W Magazine, View Camera Magazine , and Zen Bell.
* Art...art...art... Doesn't anybody bowl anymore?
* In art and in life, many of us don't challenge our own personal belief systems ... but seek to validate them.
( more will be revealed )